Donors have a desire to make a difference. This is why they seek organizations that align with their own personal missions and make an impact in their communities.
While many nonprofits are passionate about sharing their story and objectives with supporters, donors increasingly want to know more about the lifecycle of their funds. How are donations being utilized? To which services or programs are the funds being applied? Donors want to know how their financial support is directly affecting the people being serviced by the organization.
To establish a trusted relationship with supporters, it is particularly useful for nonprofits to release donor statements. These statements allow donors to visualize the achievements gained as a result of their donations based on accurate, observable numbers, showcasing how their support ties into the nonprofit's story and goal attainment.
What is a Donor Statement?
A donor statement is an integrated part of a nonprofit's general communications with supporters. The statement isn't something that will be shared with every donor; rather, organizations should start with a small number of donors so that the process can be easily managed.
Donor statements are essentially like a banking or credit card statement, showing how much money was received and where that donation was directly applied. For example, if $1,000 were donated by Supporter A, the donor statement would show Supporter A's contribution alongside any other contributions that came in for a particular project. This shows donors how their money can grow and become part of a larger goal.
Additionally, these statements show that a donor's contribution was actually applied where it was intended to go. Over the long term, providing this type of information to donors will strengthen their trust in the organization and demonstrate financial sustainability.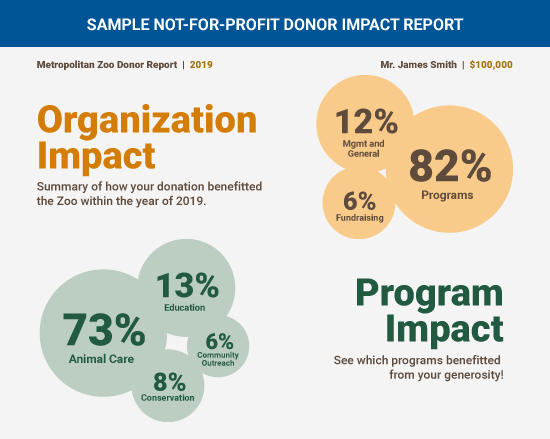 Best Practices for Donor Statements
Before you develop a process for releasing donor statements, it is important for your organization to ask the right questions based on the number of supporters, the size of the nonprofit and the available resources. What's right for your nonprofit? What will be the most effective strategy for your donors?
Compiling and releasing donor statements will likely require the work of one or two people within your fundraising team, including the financial director or another senior-level team member. After the first few statements are generated, the process should gradually become a template.
In the statement, you'll want to include the donor's details, such as their name and address. You'll also want to describe what your organization was asking for and the contribution that was received. Make sure it is easy for the donor to contact your organization if they have any questions.
Moreover, it is critical to be consistent in the information that you're sharing. Each donor should receive the same details and high-level summary of the project or program's success. This way, supporters can see how their donations contributed to the greater goal alongside other gifts.
Donor statements ultimately personalize the accountability that organizations have toward their donors, deepening the connection and sustaining the relationship. Engaging donors through donor statements opens an important conversation about where funds are actually going, which is critical for donors who want to make a difference.
---
If you are interested in finding out how to create valuable donor statements, reach out to Scott and our Accounting and Consulting Services department.
---