Shea Kracheck, CPA began working with Lane Gorman Trubitt as an intern 14 years ago and was promoted to partner in 2019. Since then she has taken on a major role in our commercial real estate niche.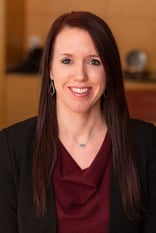 In that role she has spent numerous hours assisting her clients with their needs while managing a department and mentoring some of the firm's rising stars. She has created a space for women to thrive
within LGT by participating in the hiring and orientation process for her department. Shea ensures that the voices of women are being represented in our office. Her commitment to the success of the firm does not stop there. In addition to mentoring, Shea also takes an active role in training discussions that happen at the firm to ensure that everyone is getting the most accurate and up-to-date information in a way that is comprehensive and efficient. Her participation has led to changes in the implementation of trainings, how often the firm offers training, and when that training begins. Because of her commitment, the firm has seen important changes that have reduced the training time of our employees.

This year Shea has had several milestones of success in the firm. Shea serves as the president of the Dallas chapter of Commercial Real Estate Women (CREW). As the president of the 355-member association, she has contributed to her community and used this opportunity to grow the business and assist clients in securing their financial future. In addition, she was promoted to partner making her one of the youngest female partners in the firm. Her drive for success is not limited to herself, Shea has mentored several women in the firm and within CREW who have taken leadership positions in both organizations.
She is involved in the community
Shea serves as the President of CREW as well as on the Executive Committee of CREW's Community Board. Under her guidance, the committee has raised more money than the previous year, making it possible to increase their grants by 800%. The CREW grants fund programs like Brighter Tomorrows, Child Abuse Prevention Center, Dallas Healthy Start, and many more. Shea has participated in the Careers Building Opportunities program that involves local high school girls in a competition which focuses on the commercial real estate fundamentals that lead to a redevelopment proposal. Shea is an active participant in the CREW Dallas Golf Classic that raised more than $3.5 million that is donated to not-for-profit organizations whose focus is improving the lives and opportunities of young girls. She is also a chair for her local PTA, ensuring that mothers' voices are heard in the education of their children. She is a member of Grace Church in Allen and is grateful for the opportunity to provide them with resources.
Looking to the Future
Within the next 10 years, Shea is looking to expand her role as partner with the intention of becoming the department head for the tax department at Lane Gorman Trubitt. She will continue to serve her community and set high standards for philanthropy and community involvement. Shea would like to continue to cultivate her role as a mentor and role model for women in all industries. She intends to stretch her CREW involvement to the national level with CREW Network and looks forward to participating and raising even more money for organizations that support and encourage women.